Scott Foil 20 2012 Review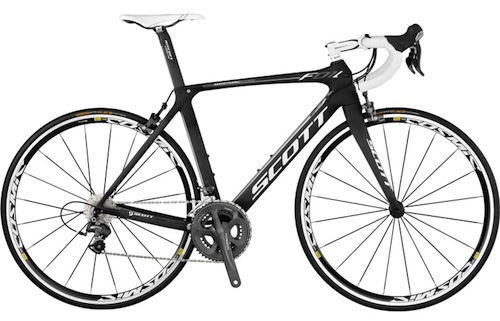 If you spend any time racing in triathlons or time trials, then you know exactly how important it is to be aerodynamic. You have to make sure that everything on your bicycle, such as your wheels, and the gear that you wear, such as your helmet, help give you a competitive edge. Of course, not everyone who rides a bike is going to be competing in triathlons, but shouldn't you still be able to have some of those same benefits in your road bike? That is what Scott has attempted to achieve with their Foil 20 bicycle.
Scott has focussed on making the Foil 20 a very fast bike. You will notice this especially when going downhill, but you will be impressed at how much speed you will be able to get on flats as well. One of the things that allow you to do this is the rugged and stiff frame. You will notice this when you are holding on drops and pulling hard on it when you are trying to push this bike to its limits. You can tell that the stiff frame is just rigid and well built and designed to be this way rather than just not being very flexible.
One thing you will want to consider upgrading however are the wheels that come with this bike. The included wheels are Mavic Cosmic Elite wheels and they should be your top priority when it comes to upgrading your bike. This is because they are nowhere near as stiff as the frame of the Foil. They are also relatively heavy, so that can also be a problem when you are climbing any hills. That might not make much difference if you are primarily riding on flats, but any time you are on an elevated slope you will notice it.
The Scott Foil 20 Doesn't Compromise
Prior to the Foil, most of the aerodynamic road bikes available would always compromise something. Usually this would result in a heavier frame as well as a less rigid one. Scott has done their best with the Foil to not compromise on these things, so they took an approach to make it aerodynamic from the ground up. The solution they arrived at to avoid sacrificing either rigidity or aerodynamics was to create the virtual air foil, which is a tube shape that causes the air to function as if it is following a conventional long-tail shape.
Of course, the price for performance does not come cheap. Prices for these excellent bikes from Scott range between £5,999 all the way to £9,499. You get a lot of very high end options for this price, such as the Shimano Ultegra Grey groupset, which is very handsome as well as understated for a bike as racy as the Foil 20. There are two different gearing options available as well. A compact option with an 11-28t cassette and 50/34-tooth rings or the standard option with 53/39t rings and a cassette of 11-25t. Both have 20 gears.