Felt F5 2012 Review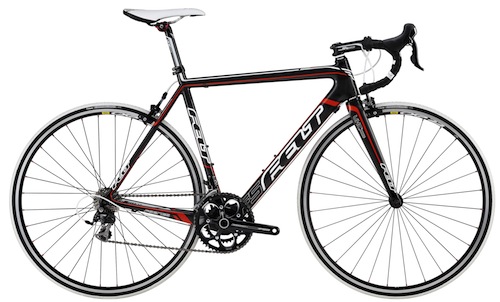 The Felt F5 is a generally popular road bike that has been contender for Bike of the Year on many notable cycling blogs and in magazines.
Frame
This is a lightweight bike with a framework that weighs less than a kilo. The front end of the Felt F5 road bike is exceptionally rigid, as a result of the tapering head tube which tapers from one and a half to one and a quarter inches, coupled with a comparatively wide junction.
Additionally, at the fork, you will find that all of the components are 100% carbon, including the dropouts and also the high quality crown race. All of this weighs in at under 350g, which is something you might usually expect on a far cheaper bike – it is a highly impressive piece of weight focused engineering that Felt have delivered here.
Of course, you do get what you pay for and Felt did have to make some compromises to support their effort to keep quality high and produce components for the frame that weigh so little, which of course is very important to modern cyclists – even if you aren't too bothered about speed, you don't want a bike that weighs a ton when you have to transport it on your car or on commuter trains.
Wheels and Tyres
The main downsides of this bike, presumably resulting from the need to meet the right price point and still offer something a little bit special to the customers savvy enough to choose the F5, are found in the wheels. While perfectly adequate, the proprietary Felt hub set married with Mavic CXP22 rims and average tier Vittoria Zafiro tyres has a somewhat deadening effect on the ride. The frame, good as it is, could certainly be made to feel a little bit more zesty with a higher end choice of wheels. Of course, you can customise this area yourself if you are interested in turning your Felt F5 into your ultimate bike – as a road bike within its price range, this is excellent value.
The gear changes on this bike are as responsive and accurate as you would want them to be, and you should also find that the chain rings don't have any flex issues.
Ride and Handling
The handling of the Felt F5 is extremely good. You really do feel motion efficient and in control riding this lightweight frame, and while the handle set on the bars is slim and quite stiff, which is better suited to smaller hands, we didn't find this bike at all uncomfortable on decent length road rides.
Whether you are considering this bike for competitive riding, leisure riding, or simply as a mode of transport, within this price range there is very little wrong with the Felt F5. It is a light, responsive and ultimately fun ride you will certainly enjoy, and is also a great base to modify, up specify and upgrade yourself if you want to turn it into your own personal dream bike.
Consider more affordable bikes in the F Series like the F85 and F95