BeOne Mistral Review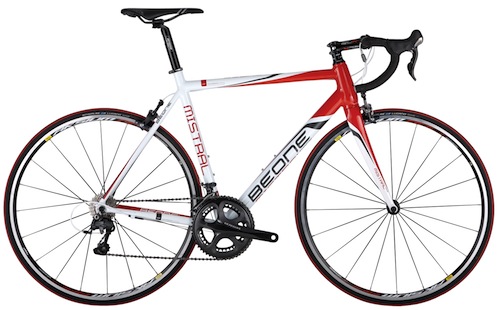 BeOne released three distinct aluminium bikes in 2010 and the BeOne Mistral is undoubtedly one of the best. Packed with amazing features BeOne's Mistral men's road bike is designed for competitive riders who can see the many benefits of aluminium frames over carbon models.
The Mistral's beone frame has been created using ultra light 7005 Alloy aluminium, which is both durable as well as extremely light. While the Mistral's frame possesses BeOne's pioneering geometrical and aerodynamic design ensures that it effectively glides through the air. The careful construction and design of the BeOne Mistral makes it an ideal choice for competitive riders who are serious about road racing.
The BeOne Mistral's carbon fork with alloy steerer helps to reduce the overall weight of the frame, whilst also ensuring responsive cornering at increased speeds. Each feature of the BeOne Mistral, including the handlebar, seatpost and stern have been creating using the strongest and lightest aluminium alloy, making this bike is one of the lightest and most durable available on the market today.
The drivetrain of the BeOne Mistral has been carefully thought-out to make it ideal for competitive racing; in particular the FSA Gossamer crankset is extremely responsive. The Shimano 105 shifters and derailleurs offer a quick and reliable shifting performance, while the FSA Gossamer brakes guarantee fast and smooth braking.
The Euston rims and hubs ensure that the BeOne Mistral comes with the best wheels available to road cyclists today. The careful construction of the Euston wheels promise that they are made for competitive road races and effectively compliment the other advanced components featured on this bike.
The Mistral is the top of the range aluminium bike in the performance series and has a higher spec than the entry level BeOne Storm.
Available in a number of different sizes and featuring a sleek pearl black colour scheme, many of our testers said that this bike handled well and performed on an equal par to the more expensive professional bikes available on the market. The light weight construction of every part of this bike, the geometrical design and advanced components guarantee that the BeOne Mistral is ready to race and will help improve any cyclist's performance.