Carrera Virtuoso 2012 Review Plus Race Limited Edition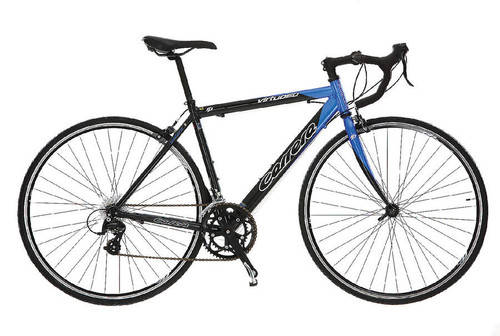 The leisure chain Halfords has gotten a bit of a bad reputation among more experienced cyclists because of the poor performance of their admittedly cheap Apollo line of bicycles, but they have been trying to make things right and that can easily be seen in their Carrera line of bicycles. That is, as long as you take it to an experienced bike shop for assembly and don't try it yourself. But once you have a Virtuoso you will have a bike that is just as good as a much more expensive name brand cycle, but for a fraction of the price. If you are trying to get the best bang for your buck, look no further than the Carrera Virtuoso.
Professional Features at Bargain Prices
One of the best things about the Carrera Virtuoso is the steel fork that has been paired up perfectly with a lightweight aluminium frame. This helps increase the vertical stiffness of the bike as well as the welds along the head-tube and the bottom bracket. The down tube has a teardrop profile which gives it a great aerodynamic look, and the top tube looks very similar but is not stretched as much as the down tube. This doesn't have any impact on performance, however and has more to do with aesthetics than anything else.
Another nice aesthetic touch is at the back of the bike, with the cowled dropouts that not only look very sharp but will also help prevent them from getting bent. The front headset is decidedly conventional, but it does save weight and can provide you with better reliability than an integrated alternative.
If you wish to add extra features to your Carrera Virtuoso, there are fittings for you to allow you to install mudguards. There are also rear rack mounts for a carrier rack as well. The downside to this otherwise very helpful ability is the fact that the dropouts only have one set of eyelets, so this means if you wanted to install both mudguards and a rack, you would have to share these. In this situation, it is very important that you put the carrier rack legs closest to the frame.
The Carrera Virtuoso is very comfortable, and it feels like a very sporty bike and not like a bike that is simply trying to imitate a race bike. Thanks to the head angle being very slack, you get more trail to make your ride much steadier. The spoke count is a bit high at 36 per wheel, but for being factory built that is what should be expected because it does provide better reliability and higher durability. While the double wall aluminium wheels are also nothing to write home about, they do benefit from the spoke count making them stronger. If you know of a good wheel builder, you can have some great wheels put together that will have less spokes than the stoke ones. It weights in at 11.2kg.
The Carrera Virtuoso Race Limited Edition Road Bike is a slightly cheaper version of the Virtuoso, which is reflected in the slightly lower grade components and its weight at 11.7kg, half a kilo heavier than the Virtuoso.
The Carrera 2012 series includes the Vanquish and Virago, whihc go up in price considerably.
The Carrera Virtuoso is a great bike that provides you with great value at a very reasonable price and offers two versions of the bike.